Tag I'm it? Oh I got tagged alright. Last week sometime, and totally flaked on it. Facts From a Fact Woman had a very interesting, but sort of confusing, tag session on her blog last week. And in true duck duck goose fashion, came runnin around that circle, smacked me on the head and took off. No not re
ally.

OK, well I don't hand out homework to others but I am happy to participate.

►Open your first photo folder
►Scroll down to the 10th photo.
►Post that photo and the story about that photo on your blog.
So This is what I come up with... A photo of the tattoo on my husbands back. Did I mention I worked in a tattoo studio in Detroit? Yeah, I think I have somewhere. Anyway, the dragon head is the 2nd tattoo I did for my husband. I thought it turned out pretty good. Far better than the 1st one I did when I was still "learning".
This photo was taken right after I finished. Still raw and red. It's kinda cool, cuz the tips of the long horns stick out, just a bit, from his shirts.
OK, now that's out of the way, moving on...

Another award for another great new(ish) blogger.
Lil' Miss June Freakin' Clever , This bod, um I mean award is for you.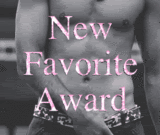 Alrighty, I think that's it for me today. Hope everyone had a good weekend. I'll catch up with everyone tomorrow.