You all know I think I am brilliant, so I am sure you will agree with me when I say these people are fan-fucking-tastic. I have been handing out the "New Favorite Award" here and there. It's time for a mass awarding. I have really been looking at great newborn or toddler stage blogs lately. I thought you would think me Fab-u-lous for sharing. So here we go.

The following people are entitled to

My New Favorites Award

. In order to be considered for this award, your blog must be relatively new, I say with in the last 6 months. AND must evoke a response from me... Laughing out loud, Fit the bill for obnoxious, give me something useful in everyday life... You get the idea.

Be kind and pass it on to just one of

Your

new favorite blogs.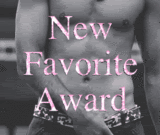 KrisGC is a great story teller. She kicked her hubby out of the car!

Frannie Fires Back Is not nearly as scary as her photo depicts.

Happily AFTER ever Rocks the mole who looks like a penis

I'm Just Saying... Totally not afraid of the word fuck.

Moments, Not the Milestones Has some interesting stuff to say.

Read With Girlfriends is a new book club blog I found.

The Half-Assed Housewife says it all in her real life blog


Alright then... That will just about do it for my list of new favorites. Show some love to your new favorites, you can copy the image code from my side bar.

And now, because I am so addicted to your praise... I got these done too. I know I am the shit. I am almost done with all my stockings now. I am excited to get them listed in Sept. BTW, most of the stockings have coordinating tree ornaments available too.