I am kinda pressed for time this AM. Lots to get done today. So this is going to have to be a quick RTT. But I do so love me some RTT, I just couldn't skip another week.

To get in on the action go visit Keely over at The Un Mom. She is awesome in her zombie paranoia.

I hate laundry. I don't hate washing it. It's just the folding it, and I loath putting it away. It's on my do to list for today.

We lost a big ass branch in a nasty storm last week. And when I say 'big ass' I mean at least 20 feet long. Fell right out of that tree next to the house and landed on the fence. I am not at all upset... I am thrilled it didn't hit the house.
For those of you who are not regulars here... I created a new award this week. It's for people who are new bloggers who we think are funny or interesting.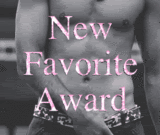 Feel free to give it out if you like. The code for the image is on my sidebar.

I had to pay a $186 ticket yesterday. Which sucks when I think about how much fabric I could have purchased with that money. Oh well, life goes on.

Again, for those of you who aren't regulars here, I am in the middle of a 100 followers campaign. I am well on my way, and when I reach my goal I will be hosting a big giveaway party. You can get the details here.

OK, I really must run. Thanks for stopping by today.