OR NOT!

Mama's Losin' It hosts a weekly writers workshop. She gives 5 topics to choose from. You pick one to write about and go with the flow.

This week I choose #5--
What are three things we would love to know about you!

This is actually a great topic for me, as recently I have been thinking about the people who read my blog and pondering "If they only knew!"
A lot of you could probably accurately describe me to a perfect stranger. Mother, Wife, Seamstress, Loud Mouth, addicted to coffee and attention. But none of you know some of the things about me that I keep close to my vest. Until now...

I should be dead! I have been told more than once, "I'm going to kill you" and the person saying it meant it. I have had a gun held to my head. I hitch-hiked from VA to FL when I was 14 years old. OK, nuff said!

I am addicted to tattoos. While living in Detroit, I started a tattoo apprenticeship that I wasn't able to complete due to uncontrollable circumstances. But while I was there I fell in love with being tattooed. I have only ever had one that really hurt. I find the pain to be relaxing. I actually fell asleep while I was getting the one on my back. Tattoo people measure their tattoos in hours of work. I would say I have more than 30 hours. Both of my legs, my chest, my back and my stomach. See photos below!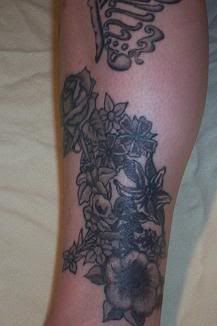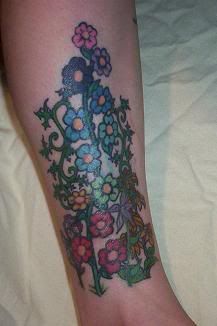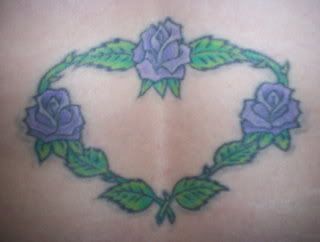 I have had many jobs in my life- rephrase, many odd jobs in my life. No, odd isn't the word either. How about unusual. Early on, I think, I realized that in order to be happy, you have to have a job you like to do. In the mix of the usual, fast food, retail, and management jobs, is a wide variety of interesting.
I have been a stage hand for an old local playhouse. One half of a clown team, doing birthday parties and local events. I spent some time as a grave digger before moving into the very specialized position of sand blaster. My artistic touches can be found all over the area's graveyards in the form of headstones. As previously mentioned, I worked in a tattoo studio. I have been a mural painter, boasting work in a well known Doctor's office here in the area.
But perhaps the job I had the most fun at was... wait for it... Go-Go Dancer. Yep I said it. Now all the women hate me right? Well don't. I can tell you, it's really not what you think it is.
First, let me say I never pretended I was doing it to put myself through school or any other higher moral reason. I did it because I liked to dance, I had (Notice the past tense) a great bod, and it was fast, fun, easy money. Again, see photo below!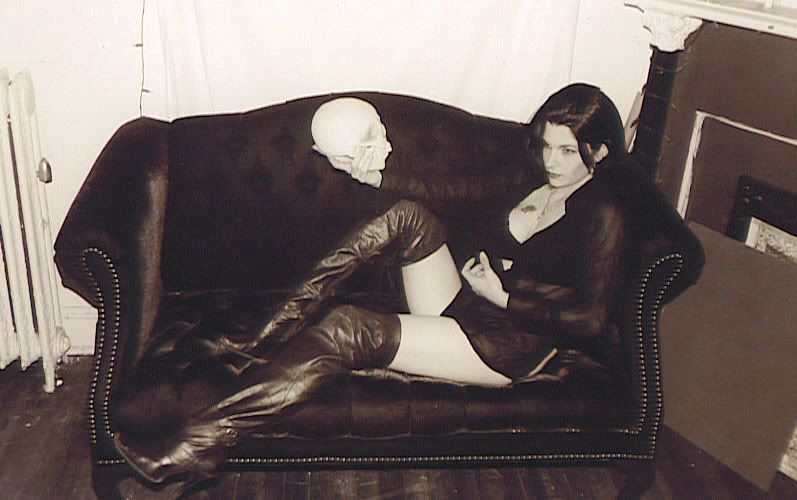 The photo I used on my business card!
And since I have opened up this can of worms I would like to point out a few things. Strippers are not prostitutes. Well 99% of them aren't. So when you husband/boyfriend goes to a strip joint with his buddies, he is not getting any sexual gratification. The 1% of the girls who would trade sex for money have a very high price tag. As in new car/new condo high! Strip clubs are places where guys go to hang out together, without their wives/girlfriends tagging along.

So there you have it. I am a freak. You all still love me don't you?