So, yesterday was a nice day for me. No more roof junk on my kitchen floor. That is always a good thing.
I got up early, made coffee, and went straight into the studio. I had a new vision for cute baby blankets. Not so much a new idea, but a new way to do the "binding" and I was eager to get in there and try it out. After I had pressed the back lining fabric up to form the binding I had a total DUH moment. Why hadn't I thought of this before.
Girls and Boys styles to choose from
Boys made with green striped Minkie (minky) and blue check flannel.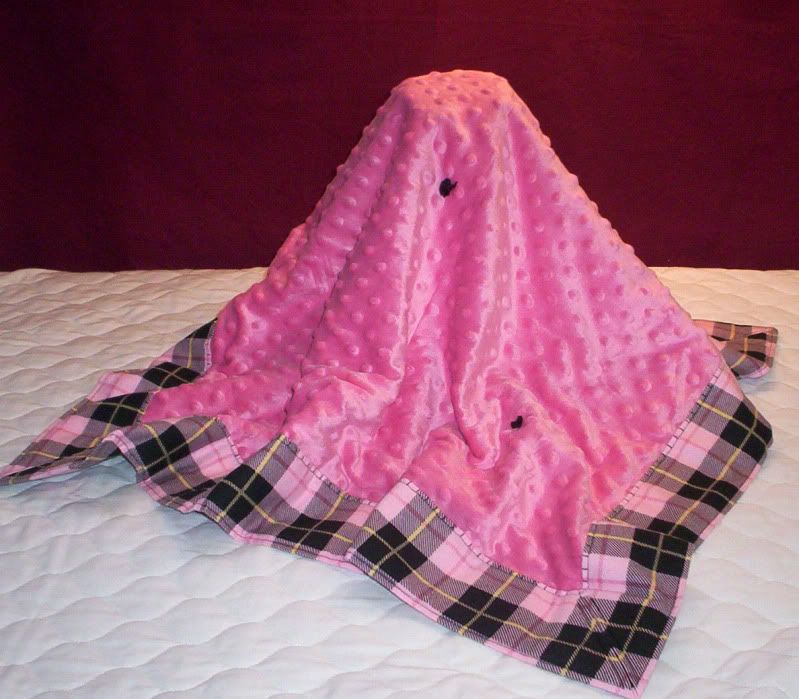 Girls made with dark pink minkie (minky) Dots and pink & black plaid flannel.
Needless to say, I am thrilled with the way these turned out. I can't wait to hear from my customers about these. They are going to be custom order items, so that they can be personalized with baby's name and maybe a birthday too.
Joann's is having a BIG sale this weekend. I am hoping pre-sales of these go well, so I can go buy lots of minky to make more of a variety to offer.
I will be doing a giveaway for one of these very soon. I'll let the winner choose Boy or Girl. I think it's going to be lots of fun. After the sale in my Bonanzle shop is over, I will post the details of the give away.
Thanks to everyone who has stopped by and/or purchased from me. You are all wonderful for supporting my fabric addiction!
Don't forget: 25% off any shop item at
SYHO's Bonanzle Shop
Just enter coupon code twittersyho in checkout for your discount! This sale will end Friday night.