It's that time again. Time for Random Tuesday Thoughts. I wonder how Keely is feeling about the new ZOMBIE movie coming out? You should click on over to her blog, The Un-Mom, and find out!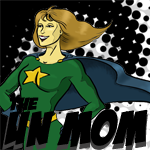 Itty Bit is still sick. She has had a fever of 103 for 5 days!!! With no other symptoms!!! I took her to the Doctor yesterday. They are just as stumped as I am. No strep, no pneumonia, no URI, no UTI, no ear infection... Just this damn fever. She is so upset because she is missing school.

While I was out on the porch having a smoke this morning, a fox came trotting across the lawn. Now to some of you this is not strange... But I don't live in the country. I live in a densely populated area. Granted my neighborhood is very old, with tons of trees, but still, a fox? Not that I have a problem with him. He can stay for all I care, I just thought it was weird.

Do you guys see this "Book Thong" graphic?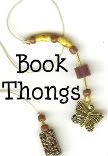 The person who makes the lovely book thongs can't seem to see her graphic on my blog. I am wondering if it's her computer, or my lack of HTML skillz? So can you take a quick look at my sidebar and tell me if you see it there? Thanks so much...

I got 8 whole solid hours of sleep last night!!! I never get 8 hours. More often than not it's 5, maybe 6. I am beside myself. I think taking care of Itty bit the last couple of days has just worn me out.

Have you heard? I reached my goal of 100 followers! Because you guys are awesome! In celebration of this achievement, I am partying all week. Including a guest post from the person responsible for all the madness, otherwise known as my blog. I stumbled across her blog back in Jan. I fell in love with ranting and raving on the internet because of her, and the next day I started my own little blog. The rest, as they say, is history. She will be posting tomorrow, so look for it. If you can't wait that long, go visit her blog. The Queen Of Shake Shake.

Also in celebration of reaching my goal, I am doing a mega giveaway. Lots of prizes. You should GO ENTER IT!

I love all the shops you guys are recommending in the giveaway post. I am visiting each and every one of them. But I am not commenting on them in the post, because I don't want my comments to interfere with the random comment picker!