Nothing against blondes, so don't come looking to string me up.
For those who don't realize, I only started blogging about 6 months ago. So you will understand when I get excited about figuring out things like... adding my own HTML to my blog layout.
Which means I now belong to the group of cool kids who post their blog awards right there in the sidebar for the whole world to see.
And wouldn't you know it, I was lucky enough to receive a new blog award yesterday. Toni at Dee-Zigns Handcrafted Jewelery and Accessories bestowed upon me the

Friendly Blogger Award

. Hey Toni, just so ya know, I think your pretty cool too.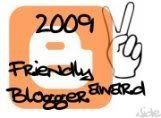 And now it's my turn...
I am passing this friendly blogger award to the following FABULOUS people:

Bantering Blonde (Seriously no offense with the blonde comment)

Bebe's Boutique

Feet Off The Table

Grandma Barbara (even tho she's not my grandma)

My Kids Might Be Martians

And you know what else...
I made my own button to link to my "other blog" and added that to my side bar too.

Go ahead, you can say it out loud 'Missy is the shit!"
Oh yeah, don't forget to check out today's earlier post Foxy Friday.